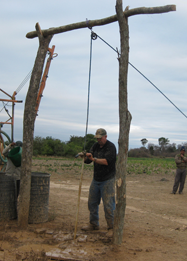 I write. I teach sales managers and directors how to fully and adequately equip their sales force to ain mastery of their sales environment by having the most up-to-date tools available to them. I make the business of sales fun again for salespeople. When I'm not helping Sales Managers create Ninja salespeople, I teach poor people – the poorest of the poor – to drill their own water wells. I invest in people that many others see as "throwaways." In most of the developing world, access to clean water is one of the greatest needs. My prayer and dream was to create a well-drilling movement in Uganda, where the poorest of the poor are empowered in such a way that they become responsible for their own families – and drill their own wells. AFter we left there in 2011, Colin and ronnie Rosser came in behind us and with their team have now drilled over 500 of those wells!
Water For All, International
is the organization through which I coach, teach,  inspire (hopefully) and work alongside those who otherwise have no hope of accessing clean water. Working within the context of "well clubs," we deliver water wells for families that cost them ~ $100 US.  For a better description of how the well clubs operate,
click here >>.